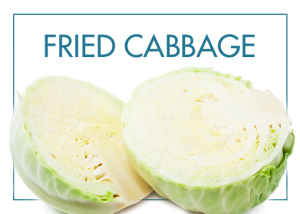 FRIED CABBAGE
Ingredients:
1 Head of Cabbage

1 Large Vidalia Onion

2 Tbsp. Olive Oil

1/2 Tbsp. Kosher Salt

Black Pepper
Directions:
Remove the outermost layer of the cabbage's leaves.

With a large, sharp knife, cut the cabbage in half then cut out and discard the core.

With the cabbage laid flat on a cutting board, slice the cabbage into 1/4 inch thick slices. (Cut long slices in half)

Place sliced cabbage into a large bowl of cool water. Soak for 20 minutes to clean.

Peel onion and slice thinly.

Rinse and drain cabbage.

Heat oil in a large non-stick frying pan on medium-high heat.

Once the pan is hot, add the sliced onion to the pan.

When the onions nearly translucent, add the sliced cabbage to the pan and cover. Allow the cabbage to cook about 5 minutes.

Stir the cabbage in the pan. If any additional cabbage is remaining, add it to the pan and allow it to cook another 5 minutes.

Add the salt and pepper to the cabbage mixture. Replace the lid and allow the cabbage to cook until the leaves are tender are bright in color. Continue to stir the cabbage often to avoid sticking.

Add additional salt and pepper to taste.

Remove the cabbage from the pan and serve warm.
This recipe is almost certain to be a new family favorite anytime of the year. Cabbage is a very inexpensive vegetable and it cooks quickly. For an additional kick, try adding a pinch of dried red pepper flakes.
---