"Whatever happens, conduct yourselves in a manner worthy of the gospel of Christ."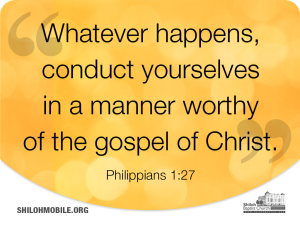 One day I called a company to cancel a policy I'd obtained from them less than a month before. When the customer service representative inquired why I was cancelling, I explained that I discovered I already had the same coverage with a different company. Although I answered his question honestly and directly, that wasn't a satisfactory for him. He began to yell, yes yell, at me that I wasn't answering his questions and I wasn't listening to him. But throughout the call, as he spoke over me, I maintained a calm, polite and respectful voice and tone although I was heated!
Eventually, I hung up on the man because he just wasn't yielding. After waiting a few minutes, I called back hoping to get a different agent. No such luck. Once again, the same man answered the phone pleasantly, I identified myself and the purpose of my call, and he asked, "Is this the same person I was just on the line with?" I answered him, "Yes. I would still like to cancel my policy." Again, he went on a rant, yelling, and almost cursing insisting that he wasn't going to cancel my policy, and that I wasn't listening to him. But still, I remained calm and polite and respectful toward him. At this point I was HOT!
In the midst of his rage, he said the only way the policy could be cancelled is through non-payment. Eureka! That was the answer to the question. When I heard that, I thought, "I'll just call the bank tomorrow and place a stop payment on the account." After that there was no reason for me to stay on the phone with him. I said, "Thank you for that information. Enjoy the rest of your evening," and I hung up again.
Through all of the yelling, and the emotions running high, I didn't take the bait. I was determined that no matter what he threw at me, I was going to "conduct myself in a manner worthy of the gospel of Christ."
Living the Word, is a lot harder than quoting it.