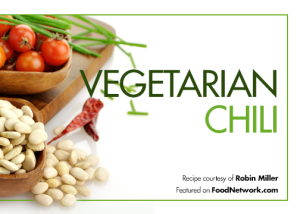 1 Cup Baby lima beans or regular lima beans, frozen

½ Bag Black beans

½ Bag Pinto beans

1/3 Cup Cilantro, fresh leaves

1 tsp Coriander, ground

2 Cloves Garlic

1 Green bell pepper

½ Bag Dry Kidney beans, red

2 Tbsp Mexican oregano or regular oregano, dried

1 Cup Onion

1 Tbsp Fresh jalapeno

2 Cups chopped tomatoes

4 Cups Organic Vegetable broth, reduced-sodium

1 tsp Hot sauce

1/3 Cup Couscous

2 Tbsp Chili powder

Salt and freshly ground black pepper

2 tsp Cumin, ground
It's time for chili! This
FoodNetwork.com
"Vegetarian Chili" is great for the slow cooker. Of course, for the purpose of The Daniel Fast, you'll need to make a few modifications to the recipe, but it will be great.
For The Daniel Fast, substitute the canned beans for dry beans unless you can find canned beans without sugar and other additives. Be sure to soak the dry beans overnight (about 12 hours) before using them in this recipe. Add fresh peppers if you like a little more heat. Also, omit the cheese and always read the labels on prepared and pre-packaged food products.
Shiloh Baptist Church of Washington, nor any of it's ministers, members or representatives does not officially endorse any company, sponsor, or their products and/or services.