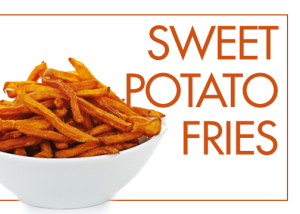 SWEET POTATO FRIES
1 Sweet Potatoes

1 Tbsp. Olive Oil

½ tsp. Kosher Salt
Preheat oven to 425 degrees.

Wash and dry the potatoes with the skin on.

Cut the potatoes length wise into the shape of French fries.

Toss all of the ingredients in a large bowl until they are well coated.

Lay the potatoes in a single layer on a large baking sheet and roast in the oven for about 15 minutes; flip with a spatula or tongs then roast another 15 minutes or until the potatoes are brown and crispy.
Reduce cooking time for softer fries.