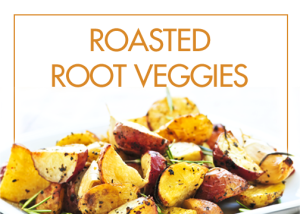 ROASTED ROOT VEGGIES
Ingredients:
3 Small Golden or Red Skinned Potatoes

1 Vidalia Onions

2 Large Carrot

2 Tomatoes

2 Tbsp. Olive Oil

1/2 Tbs. Kosher Salt

2 Tbs. Fresh Parsley (optional)
Directions:
Preheat oven to 400 degrees.

Clean and dry the potatoes, then cut into halves or quarters (depending on the size).

Peel, rinse and dry the carrots. Cut into 1/2 inch rounds.

Clean and dry the tomatoes. Cut into quarters.

Peel the onion and cut into large pieces.

Add the vegetables to a large bowl, along with the salt and olive oil.

Mix ingredients thoroughly.

Add to a cookie sheet or shallow baking dish in an even layer.

Roast (uncovered) in the oven for 30-45 minutes, or until all vegetables are cooked through.

If additional salt is needed add a small amount of sea salt to warm vegetables.

Top with chopped parsley prior to serving garnish.
If you're looking for a no-fuss, hearty meal, roasted veggies is the way to go. This meal will work well if you're doing the variation of The Daniel Fast that allows you to consume olive oil. Make sure you read the labels for additives and such.