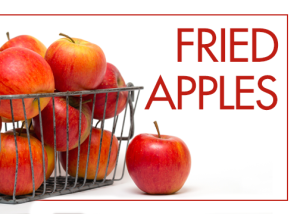 FRIED APPLES
3 Medium Apples

1 Tbsp. Canola Oil

¼ tsp. Cinnamon

¼ tsp. Nutmeg

2 Tbsp. Raisins

2 Tbsp. Water
Peel apples and cut into ¼ inch slices.

Heat oil in a large non-stick skillet on medium-high heat.

Add ingredients to hot pan with a pinch of salt.

Cook covered for 5 minutes.

Add water and cover again.

Cook until apples are tender.
This is the same awesome fried apples you've eaten for years, just without the butter and sugar. You won't miss it too much.