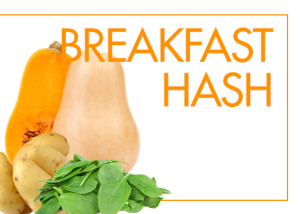 2 Yukon Potatoes

1 Cup Butternut Squash

¼ Vidalia Onion

½ Cup Cherry Tomatoes

2 Cups Baby Spinach

2 Cloves of Garlic

1 Tbsp. Canola Oil

½ tsp. Kosher Salt

Water

Parsley
Clean, dry and peel potatoes. Cut into ½ inch chunks.

Peel squash and cut into ½ inch chunks.

Peel onion and slice into thin strips.

Clean tomatoes and cut in half.

Peel and mince the garlic.

Clean and dry spinach.

Heat oil in a non-stick skillet over medium-high heat.

Add onions and potatoes to the pan. When the onions become translucent, stir ingredients and add the garlic and squash.

Add 2 tablespoons of water to the pan and cover. Cook for about 10 minutes or until potatoes are tender. Stir frequently and add 2 Tbsp. water as needed to avoid sticking.

Add remaining ingredients to the skillet and stir. Do not cover the pan. Continue stirring and adding water as needed.

Cook until tomatoes are soft and spinach is wilted.

Top with fresh parsley as desired.
If you haven't figured it out by now this dish is just a twist on the classic fried potatoes most of us grew up eating Saturday morning. Goes great with sliced strawberries or any fruit of your choice.