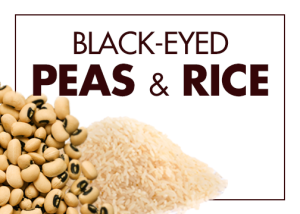 Black-eyed Peas and Brown Rice
1 bag dry black-eyed peas

3 whole bay leaf

2 cups brown rice

4 Roma tomatoes

½ small red onion

½ red bell pepper

1 Tbsp. Olive oil
Soak black-eyed peas submerged in a bowl of cool water overnight (approximately 12 hours).

Once the peas have finished soaking, rinse thoroughly and cook according to package directions. Season with salt, pepper and bay leaves.

When the peas have finished cooking, remove and discard the bay leaf.

Cook the brown rice according to package directions. (Use boil-in-bag rice for faster results.)

Dice the tomatoes, red onion and bell pepper into small pieces.

Heat olive oil in a large skillet. Add the chopped vegetables to the pan and cook until just tender. Remove from heat.

Drizzle a little olive oil over the rice, season with salt and fluff with a fork.

Add rice to a bowl or plate, next add the black-eyed peas on top of the rice, and finally add the tomato mixture.
As an alternative, mix the tomato, onion and bell pepper with cilantro and lime juice in a bowl. Then add it to the dish as a garnish. It will add a touch of coolness to contrast the warmth of the dish.