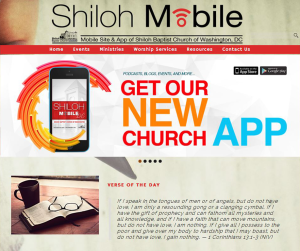 ShilohMobile.org is the new mobile site of Shiloh Baptist Church of Washington. This site is packed full of information and features for you to explore. So much so, that we've decided to give you a guided tour by way of our "Tech Talk" blog posts.
Today we'll take a look at the EVENTS page of the Shiloh Mobile site.
Although the Shiloh Mobile EVENTS page has only two elements, it's packed full of information about what's going on at Shiloh.
So let's start at the top.
The first and main element of the EVENTS page is Shiloh's infamous Dashboard Display. That's right! The same dashboard that you see in the lobby at church, and on our parent site shilohbaptist.org, is also on Shiloh Mobile.
The second element of the EVENTS page is probably the most important. Flyers! Unlike our more formal counterpart shilohbaptist.org, we've included the actual event flyers on the Shiloh Mobile site; and the app too.
Located below the dashboard display, is a collection of image thumbnails. Those are the flyers. By clicking on any thumbnail you can view the full flyer for that event.
Well that's all for now. Be sure to continue your own exploration of ShilohMobile.org
---