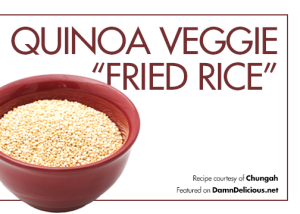 Quinoa Veggie "Fried Rice"
1 Head Broccoli

2 Carrots

½ Cup Corn, frozen (no sugar added)

2 Cloves Garlic

1 Tbsp Ginger, fresh

2 Green onions

8 oz Mushrooms

1 Onion, small

½ Cup Peas, frozen (no sugar added)

1 Zucchini

3 Tbsp Soy sauce (no sugar added)

3 Cups Quinoa, cooked

2 Tbsp Olive oil
If you're hankering for fried rice, this "Quinoa Veggie "Fried Rice" featured on
DamnDelicious.net
will do the trick. Of course, for the purpose of The Daniel Fast, you'll need to make a few modifications to the recipe, but it will still turn out great.
Please omit the following when you prepare this dish: eggs, soy sauce (unless there's no sugar or "ose" products listed on the ingredients label) and Sriracha. Also, make sure the quinoa is plain (without flavors or additives) and read the labels on prepared or pre-packaged products.
Shiloh Baptist Church of Washington, nor any of it's ministers, members or representatives does not officially endorse any company, sponsor, or their products and/or services.