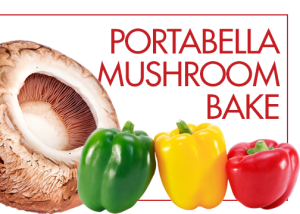 PORTBELLA MUSHROOM BAKE
1 Portabella Mushroom

1 Cup of Baby Spinach

1 Tbsp. Olive Oil

¼ Vidalia Onion

¼ Red Bell Pepper

¼ Yellow Bell Pepper

Salt
Preheat oven to 375 degrees.

Remove stem and gills from mushroom. Clean and dry thoroughly.

Clean and dry onion and bell peppers. Slice thinly.

Clean and dry spinach.

Heat olive oil in a non-stick skillet over medium-high heat. Once pan is hot add onions, bell peppers and spinach. Saute until vegetables are tender. Remove from the pan and drain on a paper towel.

Brush the outside of the mushroom with olive oil and place on a cookie sheet.

Add sauteed veggies to the center of the mushroom. Bake in the oven about 20 minutes.

Add salt as desired. Enjoy immediately.
Please note, when you slice into this mushroom it will be JUICY! You'll have to use a real plate for this one; so get your napkins ready. This dish goes great with roasted Brussels sprouts and sliced tomatoes.